Alliant Power's AP63422 Fuel Rail Pressure (FRP) Sensor for the Ford® Power Stroke® 6.4L and Navistar® MaxxForce® 7 engines has undergone a design change. The new sensor has a significantly different appearance from the sensor used previously. See the images below showing the visual differences between the two sensors.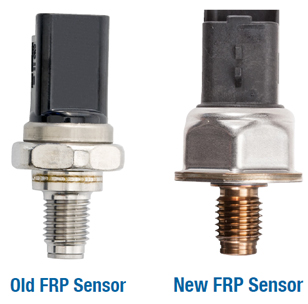 New Sensor Installation:
Remove the old sensor and seal from the passenger side high pressure fuel rail.
Note: The new sensor does not use a seal and the torque requirement has changed.
Install the new FRP sensor and use a torque wrench to tighten the new sensor to 26 lb-ft (35 Nm).
Note: With the sensor installed, there is a noticeable gap between fuel rail and sensor (see figure 1 below).
Connect the fuel injection harness connector to the FRP sensor and install the valve cover.
Refer to appropriate service manual or equivalent for detailed assembly instructions and torque specifications.