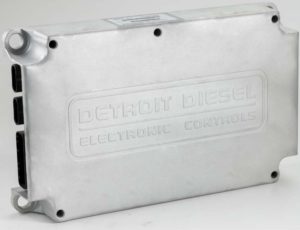 The Seidel Diesl is pleased to announce the release of Alliant Power's AP80040 through AP80045 Remanufactured Electronic Control Modules (ECMs) for select Detroit™ Diesel Series 50® and Series 60® engine platforms. AP80043 through AP80045 are pre-programmed by Alliant Power specific to your supplied engine serial number. For more information regarding pre-programmed ECMs, refer to APTB 02/17. Please allow additional lead time for programming. Corresponding OEM part numbers are listed in the table below.
AP PART NUMBER
Non-Programmed
AP PART NUMBER
Pre-Programmed
YEAR RANGE
APPLICATION
OEM PART NUMBER
AP80040
AP80043*
1994-2001 (On-Hwy)
DDEC IV Series 50 / 60
6 cyl 8.5L, 11L, 12.7L, 14L
E23519307, R23519307
1994-Later (Off-Hwy)
AP80041
AP80044*
1994-2001 (On-Hwy)
DDEC IV Series 60
6 / 8 cyl Updated
E23519308, R23519308
1994-Later (Off-Hwy)
AP80042
AP80045*
2004-2006 (On-Hwy)
DDEC V Series 60
EPA 04 12.7L, 14L
E23535990, R23535990,
23535798, 23530802
*Programmed by Alliant Power at time of order. Please contact your Central Distributor for further information.