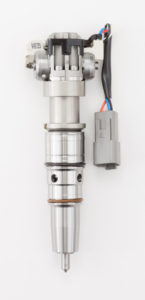 Alliant Power is pleased to announce the release of brand new PurePower Technologies (PPT) G2.9 Injectors for the Navistar® applications found in the table below.

Replacement of G2.9 Injectors requires removal of the high-pressure oil rail. The injector inlet seals are incorporated on the oil rail and must be replaced prior to reinstalling. Alliant Power kit AP0025 provides the necessary seals and backup rings to reseal the rail properly.
New G2.9 injectors are backed by Alliant Power's 13-month, unlimited mileage warranty, as well as Alliant Power's professional technical support.
AP PART NUMBER
YEAR RANGE
APPLICATION
ESN RANGE
OEM PART NUMBER
AP66876
2004
DT466: 210 HP to 225 HP
2,000,001 to 2,999,999
1842576C93 5010656R92
6905-PP
AP66877
2004
DT466: 245 HP to 285 HP (HT)
2,000,001 to 2,999,999
1842577C93 5010657R92
6906-PP
2005
DT466: 210 HP to 285 HP
AP66878
2004-2005
DT570: 285 HP to 330 HP
2,000,001 to 2,999,999
1842578C94 5010658R92
6907-PP
AP66879
2004-2005
HT570: 295 HP to 340 HP (HT)
2,000,001 to 2,999,999
1842579C94 5010659R92
6908-PP
AP66889
2006
DT466: 210 HP to 285 HP
N/A
1848489C91
6909-PP
AP66892
2006
DT570: 285 HP to 330 HP
N/A
1848492C91
6910
AP66895
2006
HT570: 295 HP to 340 HP (HT)
N/A
1848495C91
6911-PP
AP66818
2007-2010
MaxxForce® DT: 210 HP to 300 HP
3,000,001 to 3,300,000
1848718C92 5010561R91
6912-PP
AP66821
2007-2010
MaxxForce 9: 300 HP to 330 HP
3,000,001 to 3,300,000
1848721C92 5010823R91
6913-PP
MaxxForce 10: 310 HP to 350 HP
AP66855
2010-2014
MaxxForce DT: 215 HP to 300 HP
N/A
1890055C92
5010715R91
6915-PP
AP66857
2010-2014
MaxxForce DT: 210 HP to 225 HP
N/A
1884057C92
6914-PP
AP66858
2010-2014
MaxxForce 9: 300 HP to 330 HP
N/A
1890057C92
5010717R91
6916-PP
MaxxForce 10: 310 HP to 350 HP
2015
N9
N10