As a Bosch Authorized Diesel Service Dealer, we make a commitment to our customers to provide only the highest quality service available.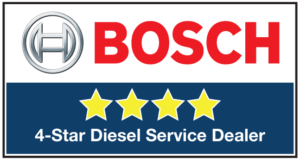 To be a Bosch 4 Star authorized remanufacturer, we must pass a rigorous certification process, based on technical skill, Bosch verified test benches, authorized Bosch tools, OE replacement parts and adherence to their strict remanufacturing specifications.
To maintain Bosch's exacting standards throughout our organization, Bosch inspects each of our nine (9) locations individually, using both pre-arranged audits and surprise inspections. The detailed results are analyzed to develop ongoing training. To remain in the Bosch network, we must maintain the highest levels in all facets of our business, from remanufacturing to technical expertise. To this end, The Seidel Diesel Group's technical staff has over 950 years of technical expertise collectively.