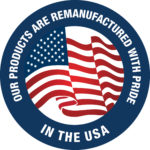 My father Geret started Midwest Fuel Injection with a single location in 1981. He had a saying that has always stayed with me… "Too Frugal to Buy Cheap".

When I was younger, I never really knew exactly what he was trying to convey to me. But today, I realize that it means you cannot afford to cut corners. If you focus on buying cheap, be prepared to buy it twice – which always costs you more in the long-run.

Never has this been more accurate than with remanufactured diesel pumps and injectors. We are approached regularly to sell Chinese and other generic brands. We don't – and we won't. Like my father before me, I am proud that our products continue to be remanufactured right here in the United States at one of our 12 locations. We will never represent or resell inferior products. I am also proud that we maintain the lowest warranty rates in our industry and that's what our customers have come to expect from us. That's what I expect from us. I can assure you that a cheap solution is a temporary one.

Ben Seidel
CEO
Seidel Diesel Group