Before you replace your Common Rail Injectors have them tested at any of our locations. Our standards for Common Rail Injector testing are the best in the industry because we have invested in the right technology and people to get you the right diagnosis every time.
Servicing All Common Rail Applications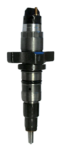 Dodge 5.9L, 6.7L & 3.0L
Chevy / GMC 6.6L
John Deere 4.5L, 6.8L, 8.1L & 9.0L
Cummins ISB
Sprinter 2.7L & 3.0L
MAN, MTU & Volvo Penta Marine Applications
Bosch EPS 205 Test Bench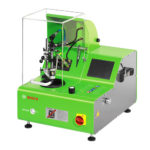 Because testing is so important, we have invested in Bosch's new EPS 205 High Pressure Common Rail Test Benches at our locations.
Full System Pressure Testing (26,000 PSI)
Bosch Factory Quality OE Testing
Receive System Results Printout
Common Rail Injector Clean Room
In September of 2013 we opened our Clean Room at our Bolingbrook Headquarters. The Clean Room enables us to produce the highest quality remanufactured common rail injectors. We use the Bosch process to rebuild our injectors, assuring our customers of the highest quality standards in the world.